The collections currently comprise approximately 12,000 items including about 6,000 books, 450 videos, 5,000 vertical file materials, curriculum resources, journals and newspapers, maps, posters, theses and dissertations, the G.A. (Bud) Mintz special collection, and some archival materials. The collections focus on First Nations in British Columbia, including contextual materials on Canadian First Nations, in addition to issues of national and international interest to First Nations and Indigenous peoples. X̱wi7x̱wa collects materials written from First Nations perspectives, such as materials produced by First Nations, First Nations organizations, tribal councils, schools, publishers, researchers, writers and scholars.
---
Featured collections
April is National Poetry Month in the US and Canada. Here at Xwi7xwa Library we are happy to present a reading list of innovative and moving poetry by Indigenous authors which showcase what is possible within and beyond the genre. Come by the branch to browse the rest of our collection (head straight to the call number 'YP' to browse all poetry) or search the UBC Catalogue for "poems" and filter for: "Location: Xwi7xwa Library".
To learn more, visit our Indigenous Poetry & Poets Research Guide.
it was never going to be okay by jaye simpson is the author's first book. This collection of prose and poetry explores themes including the foster care system, sexuality and love as a trans woman, Indigeneity and queerness, and navigating family relationships through Intergenerational Trauma. jaye simpson is an Oji-Cree Saulteaux Indigiqueer writer and activist from the Sapotaweyak Cree Nation, with Scottish and French settler ancestry.
You Might Be Sorry You Read This by Michelle Poirier Brown is a poetic memoir that looks unflinchingly at childhood trauma and tells the story of coming to terms with a hidden Indigenous identity when the poet discovered her Métis heritage at age 38. Michelle Poirier Brown is a poet and performer living in BC. Originally from Selkirk, Manitoba, she is nêhiýaw-iskwêw and a citizen of the Métis Nation.

You are enough: love poems for the end of the world by Smokii Sumac is the culmination of a two-year daily poetry practice which originally began under the hashtag #haikuaday. Split into six parts, including '#courting: on dating and gender and falling in (and out) of love' and '#theworld: a constant state of grief', the end result is a two-year journey through the life of Smokii Sumac, a Two-Spirit person, member of the Ktunaxa nation, and PhD candidate in Indigenous Studies at Trent University.
Big Love / mo stinta: Poetry Honoring Indigenous Resiliency by Shuína Skó combines 13 poems on Indigenous resiliency, storytelling, power and empowerment in the face of trauma and oppression. Shuína Sko is a a Two-Spirit storyteller and spoken word poet, author, and Indigenous rights activist. Shuína is a lifelong member of The Klamath Tribes.
The Wound is a World by Billy-Ray Belcourt is an award-winning collection of poetry which upsets genre and plays with form, pursuing new directions for queer and decolonial theory. Billy-Ray Belcourt is a writer from the Driftpile Cree Nation.
kiyâm: poems by Naomi McIlwraith is an exploration of the intersection between nêhiyawêwin, the Plains Cree language, and English, âkayâsîmowin, as well as of the relationship between the European literary tradition and oral traditions of the First Nations and Métis. With a foreword from Jenna Butler, the book includes a pronunciation guide, notes on the poems, Cree-English correspondences, and a bibliography. Naomi McIlwraith is an educator, poet, and essayist, with a mixed Cree, Ojibwe, Scottish, and English inheritance.
Approaching Fire by Michelle Porter is a journey to find the author's great-grandfather, Métis fiddler and performer Léon Robert Goulet. A mixture of poetry, photographs, newspaper clippings, jigs and reels, musicology, and the ecology of fire, Porter's moving exploration braids together history, genealogy, and poetry. Michelle Porter is a prairie Métis living in Newfoundland and Labrador. She is a poet, journalist, and writer.
Kiskajeyi – I AM READY by Michelle Sylliboy uses symbols from the Komqwejwi'kasikl writing system maintained by the author's ancestors to create poems, combining these with poems in English and photographs to recognize the land and the ways in which the Komqwejwi'kasikl language comes from this land. The weaving of modern poetry, hieroglyphic poetry, and images creates a book celebrating Indigenous languages. Michelle Sylliboy is a Mi'kmaw (L'nu) artist and author born in Boston, Massachussetts and raised on unceded territory in We'koqmaq, Cape Breton.
As Long as the Sun Shines by Janet Rogers is the author's sixth published poetry collection. Split into three parts, 'Nations March Together', 'Proof of Power' and 'Singing the Peace Hymn', this collection is an emotional journey towards inner peace inspired by the author's travels, experiences, relationships, and her Haudenosaunee perspective.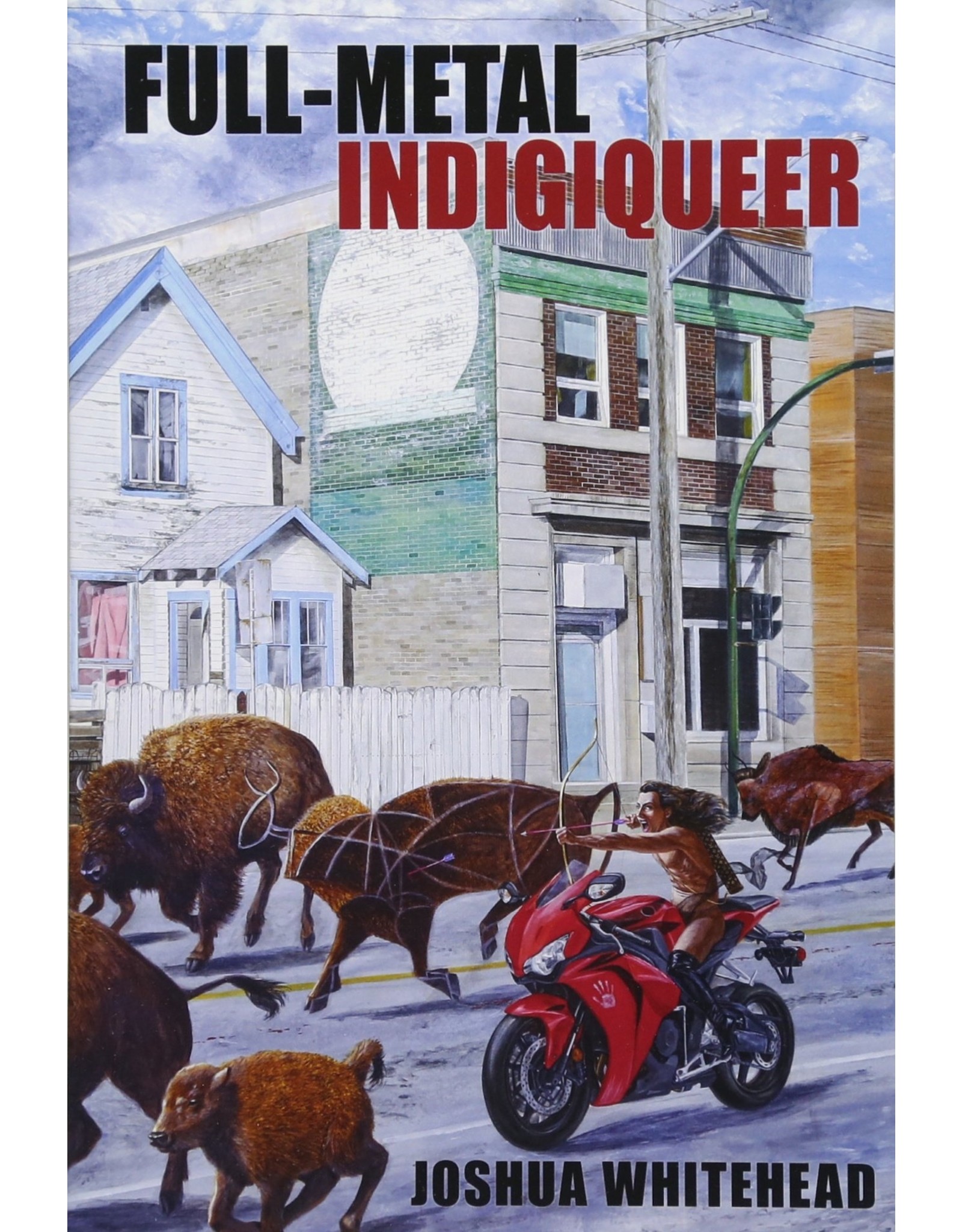 Full-Metal Indigiqueer by Joshua Whitehead is visual art and poetry together as one. It "focuses on a hybridized Indigiqueer trickster character named Zoa who brings together the organic (the protozoan) and the technologic (the binaric) to re-beautify and re-member queer Indigeneity". Joshua Whitehead is an Oji-Cree, Two-Spirit storyteller and academic from Peguis First Nation on Treaty 1 territory in Manitoba.
river woman by Katherena Vermette examines and celebrates love as decolonial action, where love is reclamation and repair in times of trauma. This work highlights the importance of language within the body and its role in healing, and explores Vermette's relationship to nature, land, and water. Katherine Vermette is an award-winning Métis writer from Treaty One territory.
Cut to Fortress by Tawahum Bige is the author's debut poetry collection, confronting colonialism, relationships, grief, and intergenerational wounds. Tawahum Bige is a Łutselk'e Dene, Plains Cree poet living on unceded Musqueam, Squamish, and Tsleil-Waututh territory.
Exhibitionist by Molly Cross-Blanchard is dedicated to "the young people who feel so embarrassed, all the time". Embracing shame while acknowledging the all-encompassing nature of it, these poems engage in a funny, honest, sorry-not-sorry confessionalism. Molly Cross-Blanchard is a white and Métis writer and editor born on Treaty 3 territory (Fort Frances, ON) and raised on Treaty 6 territory (Prince Albert, SK).
Where the Sea Kuniks the Land by Ashley Qilavaq-Savard celebrates the interconnectedness of people and place in a gesture of love to the Arctic landscape. This collection of poetry is filled with beautiful images of the landscape and water, and takes the reader on a journey through seasons, reflecting on land, culture, and identity. It also includes a glossary of Inuktut words.
(Re)generation: The Poetry of Kateri Akwenzie-Damm by Kateri Akiwenzi-Damm bring together poems from different stages of the author's writing, from her earlier works through to her spoken word works. This collection showcases her unwavering voice on a range of issues, in particular her writing in service of Indigenous brilliance, love, intimacy, and joy. Kateri Akiwenzie-Damm is a member of the Saugeen Ojibway Nation, Chippewas of Nawash Unceded First Nation, on the Saugeen Peninsula in Ontario. She is a poet, writer, spoken word artist, Indigenous arts advocate, and educator.
I Place you Into the Fire: Poems by Rebecca Thomas is "at once a meditation on navigating life and love as a second-generation Residential School survivor, a lesson in unlearning, and a rallying cry for Indigenous justice, empathy, and equality." Split into three parts based on three similarly shaped words in Mi'kmaw: Kesalul (meaning, "I love you"), Kesa'lul (meaning "I hurt you"), and Ke'sa'lul (meaning, "I put you into the fire"), this is a collection about love and pain. Rebecca Thomas is an award-winning Mi'kmaw poet and Halifax's former Poet Laureate.
I Will Be Corrupted by Joseph A. Dandurand is a collection of visceral poems that transport the reader to each scene described, creating a story of hope, loss, and redemption. Joseph A. Dandurand is a member of Kwantlen First Nation and has published 13 books of poetry.
Eskimo Pie: A Poetics of Inuit Identity by Norma Dunning brings together poetry and prose to create a reflection of the author's lived experiences as an Inuk who was born, raised and continues to live south of sixty. Norma Dunning is an Inuit writer, scholar, professor, and grandmother.
Indigena awry by annharte collects a decade of poems: 59 total, split into six parts. "Set noticeably in Winnipeg and Vancouver, but in many other places on either side of the Medicine Line as well, the poems are a laser-eyed meander through contested streets filled with racism, classism, and sexism. Shot through with sex and violence and struggle and sadness and trauma, her work is always set to detect and confront the delusions of colonialism and its discontents." Marie Annharte Baker is Anishinabe (Little Saskatchewan First Nations, Manitoba) and this is her fourth book of poems.
Lunar Tides by Shannon Webb-Campbell explores the "primordial connections between love, grief, and water, structured within the lunar calendar". Shannon Webb-Campbell is a mixed Indigenous (Mi'kmaq) settler poet, writer, and critic. She is a member of Qalipu Mi'kmaq First Nation and lives in Kijpuktuk/Halifax in Mi'kma'ki.
Crow Gulch by Douglas Walbourne-Gough is the author's debut poetry collection about Crow Gulch, a community on the shore of the Bay of Islands in Newfoundland made up of migrant workers, many of Indigenous ancestry, who were drawn to the area by the construction of Corner Brook's pulp-and-paper mill. Douglas Walburne-Gough "finds his own identity within the legacy of Crow Gulch and reminds those who have forgotten of a glaring omission in history." Douglas Walbourne-Gough is a mixed/adopted member of the Qalipu Mi'kmaq First Nation from Corner Brook, NL.
Father / Genocide by Margo Tamez "reconstructs her father's struggle to "be a man" under American domination while tracing the settler erasure, denial, and genocide that he and preceding generations experience". Her poetry is timebending and makes use of a poetic form Tamez calls Indigenous fusionism-Indigenous futurism. Margo Tamez is a poet, herstorian, activist, and documenter of human rights violations across the Lipan tribal homelands. She is an enrolled citizen of the Lipan Apache Band, Texas.