Lucinda Murray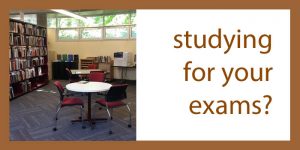 By Lucinda Murray on April 11, 2019
Xwi7xwa Library is open from 9 to 5, Monday to Friday, with reference support between 11 and 3.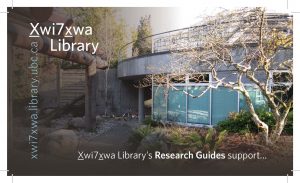 By Lucinda Murray on April 11, 2019
Xwi7xwa Library has a wide range of carefully curated library research guides (also known as libguides), covering everything from Aboriginal Filmmakers to Indigenous Education K-12. These guides are particularly helpful places to start when looking for information about a specific disciple or subject area. Visit the portal to see all Xwi7xwa Library authored libguides.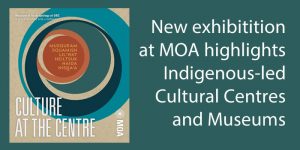 By Lucinda Murray on April 6, 2018
Culture at the Centre is new exhibition at the Museum of Anthropology that insight into the "important work Indigenous-run cultural centres and museums in British Columbia are doing to honour and support their culture, history and language. Five centres are showcased, representing six communities: Musqueam Cultural Education Centre (Musqueam), Squamish-Lil'wat Cultural Centre (Squamish, Lil'wat), Heiltsuk […]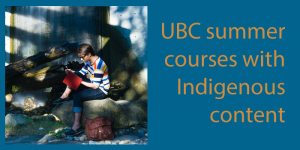 By Lucinda Murray on April 3, 2018
According to the 2018 University of British Columbia Course Calendar and departmental course descriptions, there are 6 courses, from 3 departments, not including First Nations and Indigenous Studies, that contain a significant amount of Indigenous content and are being offered for Summer 2018.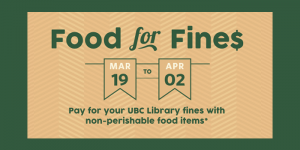 By Lucinda Murray on March 27, 2018
From now until April 2nd you can pay off up to $30 of library fines with non-perishable food items donated to participating libraries across campus. Each food item will be worth $2 of library fines, and all donations go to the UBC AMS Food Bank on Campus and the Greater Vancouver Food Bank. Find out more information here.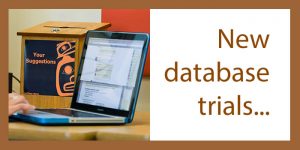 By Lucinda Murray on November 15, 2017
From now until December 3rd we're trialing two new databases at Xwi7xwa Library: Ancestry Library Edition and Ethnic NewsWatch. Ancestry library Edition is a partnership between ancestry.com and ProQuest, and offers a wealth of genealogical resources from the United States and the United Kingdom, alongside record collections from Canada, Europe, Australia and other countries. You can […]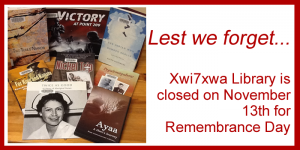 By Lucinda Murray on November 7, 2017
You probably know that November 11th is Remembrance Day. Xwi7xwa Library will be closed on Monday November 13th to commemorate this and to honour members of the armed forces who died in the line of duty. November 8th is not a federal holiday and but the date is still important. This is Aboriginal Veterans Day, […]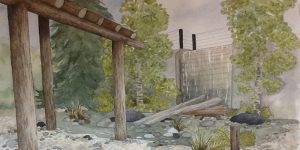 By Lucinda Murray on September 19, 2017
The waterfall outside Xwi7xwa was original Chief Simon Baker's idea and has been a part of the Longhouse since its creation, serving as a reminder that "water is the most important thing in our lives." [i] After 24 years, some elements of this feature were in need of repair and we are happy to confirm […]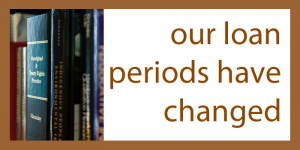 By Lucinda Murray on September 15, 2017
We're happy to announce that, starting this September, many of our loan periods have changed. Graduate loans now span an eight week period on standard items, while faculty borrowing from Xwi7xwa will be able to check out standard materials for the entire winter term through to April.