Archives by date
You are browsing the site archives by date.
By Karleen Delaurier-Lyle on May 2, 2019
Did you know that you can watch X̱wi7x̱wa's playlist of videos online? UBC Library uses a platform called McIntyre Media to stream videos we've subscribed to. Search the phrase "Mcintyre media" in simple search and filter the results to Online OR click this link. Select any of the titles on the list to see their […]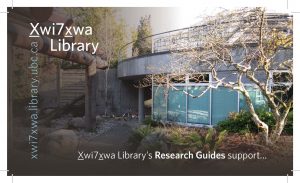 By Lucinda Murray on May 2, 2019
Xwi7xwa Library has a wide range of carefully curated library research guides (also known as libguides), covering everything from Aboriginal Filmmakers to Indigenous Education K-12. These guides are particularly helpful places to start when looking for information about a specific disciple or subject area. Visit the portal to see all Xwi7xwa Library authored libguides.